How we develop restaurants brands & strategies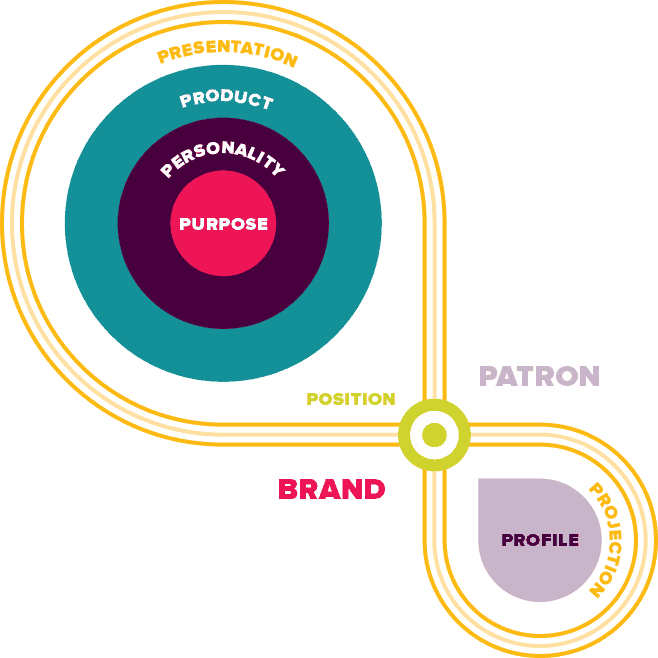 Visualizing a brand's strategy components
Brand strategy isn't solely about guiding visual outputs. It's the catalyst for creating or changing culture inside and outside an organization. Culture is what drives brands forward and when a restaurant brand has one that's primed for adoption by a Patron group, said the restaurant has a competitive advantage.
This diagram is a visualization of how Vigor develops brand strategies. Known as the "golden lasso", it puts the Patron in clear view by not only their demographic data but also their desired perceptual state. From this foundation, we collaboratively create the components of the brand starting with its true, authentic purpose.
Brand strategy Methodology
Process for developing brands
Successful strategies cannot be haphazardly built. For over 15 years we've crafted and honed our methodological approach to branding. This cyclical process empowers a collaborative effort in uniting, propelling, and evolving brands forward.
Starting at the Discovery phase, we work with our clients to parallel path information gathering, research, and workshops with the goal of getting a complete understanding of the organization and the area in which it exists.
From that basis, we Define the brand's strategy as we visualized above in the Golden Lasso diagram.
Once Defined, we then Design the core components of the visual outputs while collaborating to on-board and Develop a deep understanding of the strategy throughout the organization.
After Deploying the initiatives into market, we then collect and analyze data and learn to repeat the process. This creates an ever-building, evolving brand that ensures stagnation never occurs.