When Bill and Jay first presented their concept to Vigor, we were a little tongue-tied. While we're used to nudging our clients to be bold and do something different, Bill and Jay brought that part in spades. Their concept would be a one-of-a kind beer tasting experience with 100 self-serve taps, kiosk ordering for food, a theatrically immersive environment based on a western town, and even feature an ever-changing projected ceiling and a portal through a tree. 
Brand Strategy, Narrative, Naming, Identity Design
At one point, robots entered the conversation.
It quickly became apparent that Vigor's role would be to harness the creative energy and vision of the founders while setting the concept on a path to successful execution. In a rare reversal of roles, we used our brand strategy process to pare down and crystalize what TapTown would be, without losing a glimmer of the magic that made the founders so passionate about it.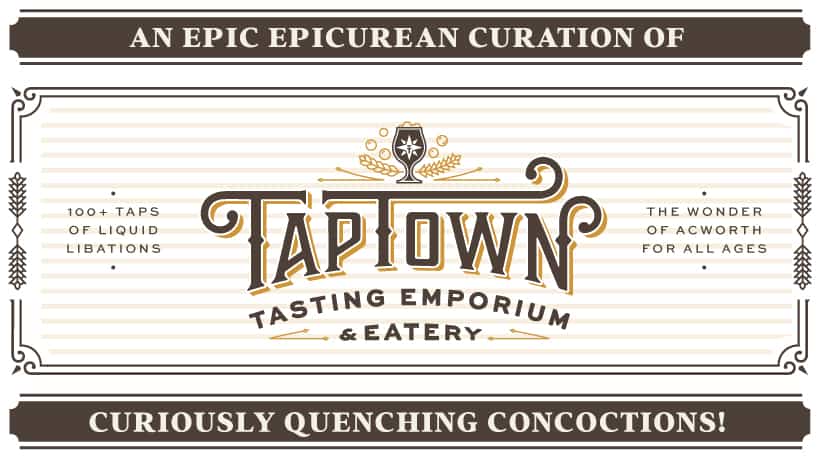 .

To immerse our neighbors in exploration of what they love.
With a strategy in place, Vigor helped to refine the brand name from Locals TapTown Grill to something with a little more flair for the dramatic: TapTown Tasting Emporium and Eatery.
This set the stage for a visual and verbal identity that draw from the semi-rural charm and local history of Acworth, while infusing the brand with an imaginative, child-like love for exploring craft beer and sharing it that knowledge with anyone willing to listen. 
Whether actively guiding, or simply setting the stage, we help our local community become fully engaged in learning about, tasting, and experiencing what Georgia has to offer. The end result is a renewed appreciation not only for beer, but also for the place and people that surround them every day.