In Beirut and its surrounding region, the Al Bohsali brand is renowned. Over a century old, the family has been the top producer of the region's finest baklava and other Lebanese pastries and treats. US-based friends orchestrated the importing of the brand's signature product but needed to modernize the positioning and identity to establish it was a luxury dessert brand.
Brand Strategy, Brand Architecture, Identity Design, Menu Systems, Uniforming, Environments, Packaging, Art Direction
Modernizing the brand logo
With a brand that has cultural roots lasting over a century, an update to the concept made the most strategic sense. Our focus was to bolster the visual elements unique to the original logo while cleaning up the look to portray a more luxurious, high-end visual. The angled ascenders were pulled through to the new logo typography that had a modern design as opposed to an industrial/manufacturing aesthetic.
To reinforce the luxury vibe of the brand, we created the descriptor line, "Mediterranean Patisserie." This allowed for a broad description of offering that communicated the French and Middle Eastern cultural influence.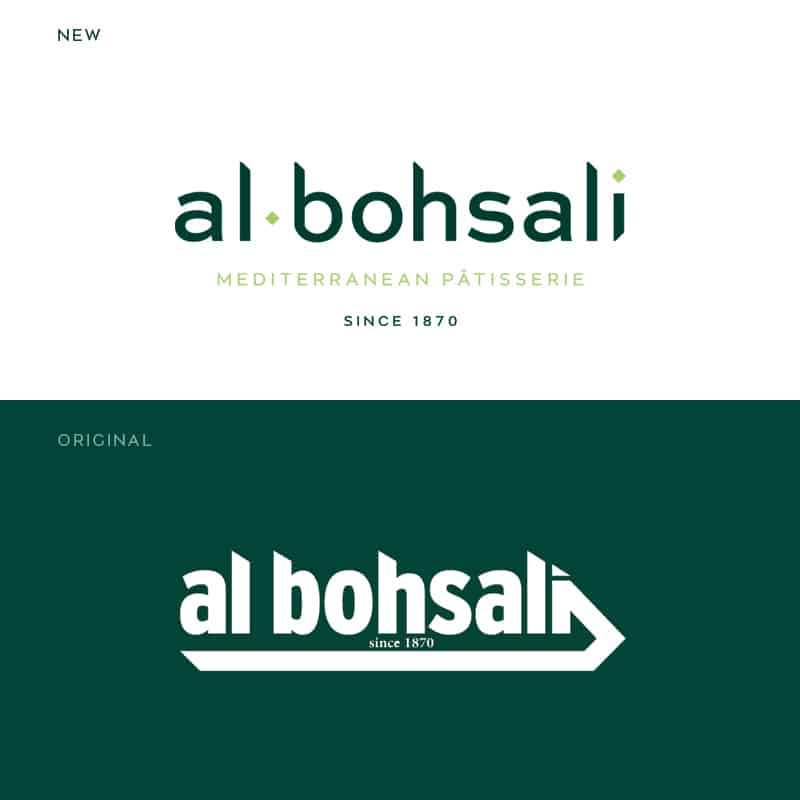 A classic brand finds its luxury look
Across the brand's multiple touch points we crafted an extended visual language that pulled influence from Mediterranean aesthetics. A custom pattern was designed based on tilework for which the region is famous. A modern, simple style of illustration was employed to bridge the gap between traditional and new.
The kiosk environment continued the luxury design focus with white surfaces interrupted with the classic pattern design and a fresh way of showcasing the pastry visuals. By introducing the raw ingredients in correlation to the product, we were able to demonstrate the art of the patisserie craft uniquely.